In the fall of 2021, Margot Morrison-Brandreth, a 63-year-old resident of Collingwood, Ontario, was experiencing an ongoing productive cough. After months of tests and treatments, she received the news.
"I was blindsided with the news that I had inoperable stage 4 lung cancer. I had been a very active, healthy, non-smoking 62-year-old who now faced a terminal diagnosis."
In January 2022, Morrison-Brandreth began treatments of chemotherapy and immunotherapy every three weeks. Among other supports, her oncologist recommended that she contact hospice.
"When he said this, I thought my death was imminent. My education about Hospice began," she said. "They were quick to respond to my need to speak to a counsellor to help me deal with my new life. Appointments were made with the very caring and competent palliative care doctor, Dr. Alyssa Boyd. She addressed both my physical and mental health. My health team's goal was, and continues to be, to make the very best of my quality and quantity of life."
Margot's experience with Hospice led her to want to give back to the organization that had helped her so much during her darkest hour. In April 2022, she organized a team to participate in Hospice's annual Hike & Bike.
"The fact that Hospice answered my call for help so promptly and provided such good support in helping me, and my family deal with our anticipatory grief, was at the root of my desire to be involved in the Hike & Bike. Before my own experience, I was unaware of the many services Hospice provides. They gave me comfort, hope and a very worthwhile cause to support. I decided that I was going to focus on living with cancer rather than dying from cancer."
Margot was overwhelmed and grateful for the amazing support of her family and friends. She encouraged all residents of the Georgian Triangle to participate in supporting Hospice. There are many ways to help - Margot decided to enter a team into last year's Hike & Bike for Hospice.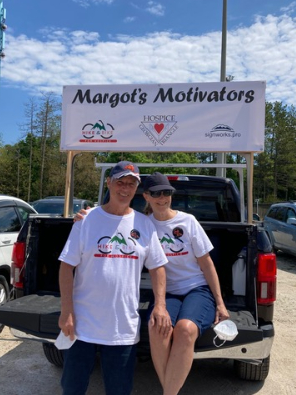 "We are a community which is growing at a tremendous rate and one whose population is aging quickly. The one thing that we all have in common is we are going to die. Each of us and our families needs support to face the inevitable and to have comfort during this difficult time in our lives."
"Hospice provides care well before death, near the time of death, whether one chooses to die at home or in hospice, and assists the loved ones left behind to cope with their grief. The setting of the Hospice is beautiful and homelike, and the staff and volunteers are kind and compassionate."
The Hike & Bike event last year was a tremendous success, with Margot's team of over 100 raising thousands of dollars. Margot said, "The actual day of the Hike & Bike is tremendous fun, inspirational, and really helps to build community."
Margot's message to the community is clear: "Hopefully, we all have a chance to live well – hospice offers us a chance to die well. We are so fortunate to have hospice in our community, and more likely than not, each of us, or our loved ones, will be served at some time by this great organization. The community needs to continue to support hospice so Campbell House, and all the services hospice provides, are there when we need them."
The Hospice Georgian Triangle is set to hold the thirteenth annual Hike & Bike for Hospice on May 28 to raise funds for hospice palliative and end-of-life care. Registrants can participate in a 6 km hike or bike or a 20 km bike starting at the Collingwood Curling Club.
The funds raised will directly support patients like Margot Morrison-Brandreth, and their families.
Hospice Georgian Triangle provides compassionate care at Campbell House and in the community for individuals with life-limiting illness and their families in the Town of the Blue Mountains, Collingwood, Clearview Township and Wasaga Beach. Care programs come at no cost to the user and focus on the physical, emotional, and mental well-being of the patient, family and caregivers, enhancing quality of life.
Hospice Georgian Triangle Foundation's purpose is to raise the funds that allow Hospice Georgian Triangle to provide exceptional hospice palliative care and community programming.
Getting involved in the upcoming Hike & Bike is easy.
Register today online or call 705-444-2555 ext. 7527.
Can't attend? Make a donation online here or directly to Morrison-Brandreth's team, Margot's Motivators, here.