Collingwood residents have been weighing in on the town's plan to deal with growth over the next two decades.
Hot topics such as residential traffic, affordable housing, environmental protection, and allowing 12-storey buildings in Collingwood came up during two question-and-answer sessions hosted by the town and the consultants hired for the Official Plan review.About 90 participants attended Tuesday's afternoon public information session on the first draft of Collingwood's new Official Plan, which will guide land-use decisions within Collingwood for the next 20 years.
Many Third Street residents attended the afternoon session to share their concerns about the future of the road, which is identified as a collector road, and highlighted as part of a route (with Ontario Street) that will take traffic from High Street to Pretty River Parkway. A "future collector road" is marked in the plan from High Street to Tenth Line.
"What has been included in this Official Plan in regards to Third St. is, it was already classified as a collector road, and has been recommended to stay that way under this update," said Director of Public Works, Engineering and Environmental Services Peggy Slama, also pointing to the Master Transportation Study done by the town in 2019.
Slama said there's no timeline for the installation of traffic lights at Third and High or the extension of Third Street to Tenth Line as it is dependent on commercial development west of High Street.
In Collingwood, there are three types of roads identified through the Master Transportation Study: local, collector and arterial roads, which are determined by vehicle counts and flow characteristics. Local roads are defined as less than 1,000 cars per day, collectors are less than 8,000 and arterial are between 5,000 and 25,000 cars per day. For instance, Hume, Hurontario, First, High and Huron Streets are all arterial roads, plus Pretty River Parkway and Highway 26.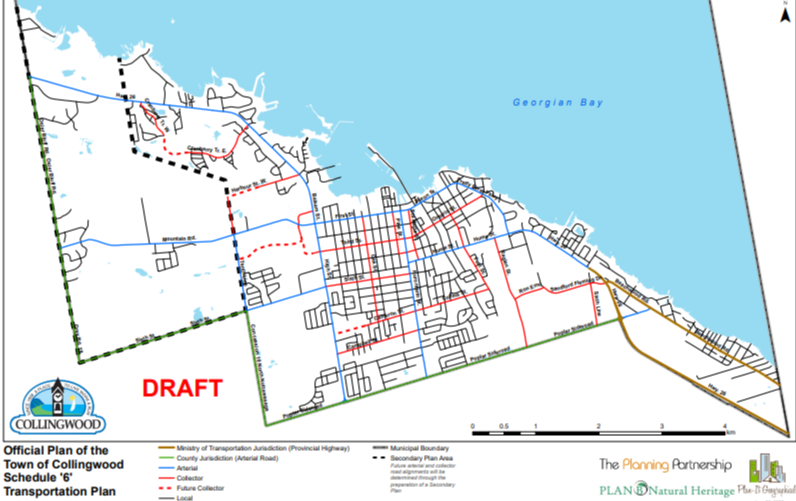 Slama said that in 2019 when the Master Transportation Study was completed and approved by council, it was determined Third St. sees about 3,000 cars per day. She said work is currently being done on the street in regards to relocating some utilities.
Resident Jack Marley asked about the existing work being done on Third St., as he said he's concerned that the road is being prepared to be widened to add more vehicle lanes.
"There certainly is a plan for Third St. It's been identified as part of the cycling plan. We will likely be making it wider to accommodate that, but at this time we're not making it wider to make it more than two lanes," said Slama.
"The OP doesn't mention the cycling plan," noted Marley.
The Official Plan is completed in every municipality every five to 10 years, and is the guide for the town's 20-year growth directing where, when, and how growth should occur. Collingwood is expected to grow from a population of 22,500 people in 2016 to a projected population of 41,500 people by 2041.
The release of the first draft of the Official Plan last month was a culmination of two years of work, which started in 2019, and included community visioning, a public survey and consultation with various community groups, organizations and changing provincial policy.
Some of the matters considered in crafting the plan include municipal infrastructure needs, community design, the downtown and waterfront, growth management, housing, natural heritage, sustainable development and transportation.
The long-term impacts of the COVID-19 pandemic were also considered.
Because the document takes into account projected growth and attempts to create plans to accommodate that growth potential, the official plan includes some maps and schedules for roads and transportation routes, particularly with regard to public transit.
During Tuesday's meeting, resident Paul Rogers said he wanted to support verbal comments made about Third St. by others.
"I have an initial written submission that is mostly concerned with transport, including adding to the flow on important and beautiful Third St.," said Rogers. "I am close to Third so I might lack objectivity, but speed, volume and safety are major concerns. The plan can't make folks slow down, but it should take into account the risks to safety and to the integrity of existing neighbourhoods."
Slama noted that the next transportation master plan is expected to be done, including public consultation, in 2023/24.
"There are significant speed and volume issues on Third as it is, which I attribute in part to the lack of stop sign between Birch and Spruce. This absolutely merits a separate discussion," said resident Janet Nielsen.
Slama agreed to arrange a meeting with Third Street residents and town staff to further dive into questions and concerns.
During a second question-and-answer session on the official plan later on Aug. 2, a few dozen more residents signed on to ask questions and give their opinions on the draft plan.
Ulli Rath was baffled at the plan's suggestion that Collingwood should allow up to 12-storey buildings in some of the more built-up areas. He said climate change couldn't be mitigated by taller buildings or New York and Abu Dhabi would be pristine, eco-friendly places.
During a council discussion, Palmer addressed the 12-storey building suggestions included in the plan.
"The discussion about height is really about location and other elements of character that you're trying to achieve," he said. "You need a range of built forms, because you don't have that today and that's causing trouble with affordability."
"You need to do something," said Palmer.
Other meeting attendees raised the question of environmental protection, suggesting the plan didn't have strong enough language to ensure wetland protection. Palmer said he thought he wrote a strong section of the plan dealing with environmental protection, but he would revisit it.
"You can't develop on environmentally protected land," he said, noting the designations of wetlands, protected lands, and buffer zones comes from the province through the Conservation Authority.
Marg Scheben-Edey said the plan needed to better define terms such as attainable housing and affordable housing to make the plan and references to different types of housing more clear.
She also cautioned that the plan should to be very specific when it comes to accessory buildings and apartments to prevent monster homes from being built as accessory buildings because of a loophole.
Further to the discussion around definitions, some of the residents in the evening session raised the issue of matching and enhancing the character of a community and doesn't negatively impact it.
"The problem with trying to do that in an Official Plan is that every neighbourhood has a different character," said Palmer. "What I've done in other municipalities is identify the elements that define character – front-yard-setback, side-yard-setback, height, landscape, mature trees. So that's an important concept and I'll look to see if there's an opportunity to do that here, or whether it should be done in an urban design manual."
The town's planning, building and economic development director, Summer Valentine, said the draft Official Plan has been circulated to neighbouring municipalities and the county for review. She said it's common to expect comments from those municipalities on issues with cross-boundary impact.
The final Official Plan must be approved by the County of Simcoe. Following that, the town will do a comprehensive zoning bylaw review, which will include more extensive public engagement than the Official Plan review process.
To access the draft Official Plan document or for more information on the Official Plan process, click here. Comments may be sent to [email protected] and will be accepted until August 17, 2022.
- With files from Erika Engel