Melissa Vassallo Idiens and her daughter Mia have skin as thin and fragile as butterfly wings, but they've set out to prove they can also soar like a butterfly.
Idiens is the founder of Mia Thrives, which is a non-profit supporting Canadian children living with a genetic skin disease called epidermolysis bullosa.
The Collingwood mother and daughter both have epidermolysis bullosa (EB), specifically the dominant dystrophic type, which is a rare, inherited condition caused by genetic mutation that impacts the skin, nails, and can have internal impacts.
With EB, skin can blister and tear extremely easily, which is why children affected by the disease are often called "butterfly children." Their skin is as fragile as a butterfly's wing.
Idiens' father also had the disease, it's passed on from parent to child. She saw the signs in her newborn daughter when a band-aid peeled off Mia's heel took the skin with it.
"I decided very quickly after Mia was born … that my family was in a unique position to give back and help support the EB community," Idiens told CollingwoodToday. "We decided to focus on the social aspect of EB."
Idiens not only has lived her life with EB and the complications caused by regular wounds and skin blisters, she was also in a car crash at 22 that was fatal to some passengers and put her in the hospital on and off for six years with life-altering injuries. She finished a master's degree in disability studies once she recovered.
"I understand what it's like to have complex injuries and disabilities and health challenges. We can get lost in the suffering," said Idiens.
Mia is as active as any almost-eight-year-old might be.
Anything she does in a day might cause a wound, from putting on a shirt with the tag folded a certain way, to playing Patty Cake. Sometimes she can kick a ball with no impact to her skin. Recently, while playing with friends in the gym, one child stepped on her toes accidentally, and she lost the skin off three toes.
The disease has also affected Mia's esophagus, causing some issues with eating that have required surgical procedures.
"There's no cure … there's no magic cream that helps, there's no particular diet that can make a difference … it's a genetic mutation, there's no easy fix," said Idiens. "It's hard on her teachers and her classmates when they see the level of wound that she gets versus the level of wound that they get. But we tried to tell everyone this is our normal."
Every day, Mia's parents, Melissa and Darryl, dress and care for her wounds, and lance blisters, before and after school and before bed, sometimes more often. Both have above-average knowledge and skill in wound care out of necessity of caring for their child.
"My husband and I have worked really hard to ensure that she has access to everything in life," said Idiens.
Mia is thriving.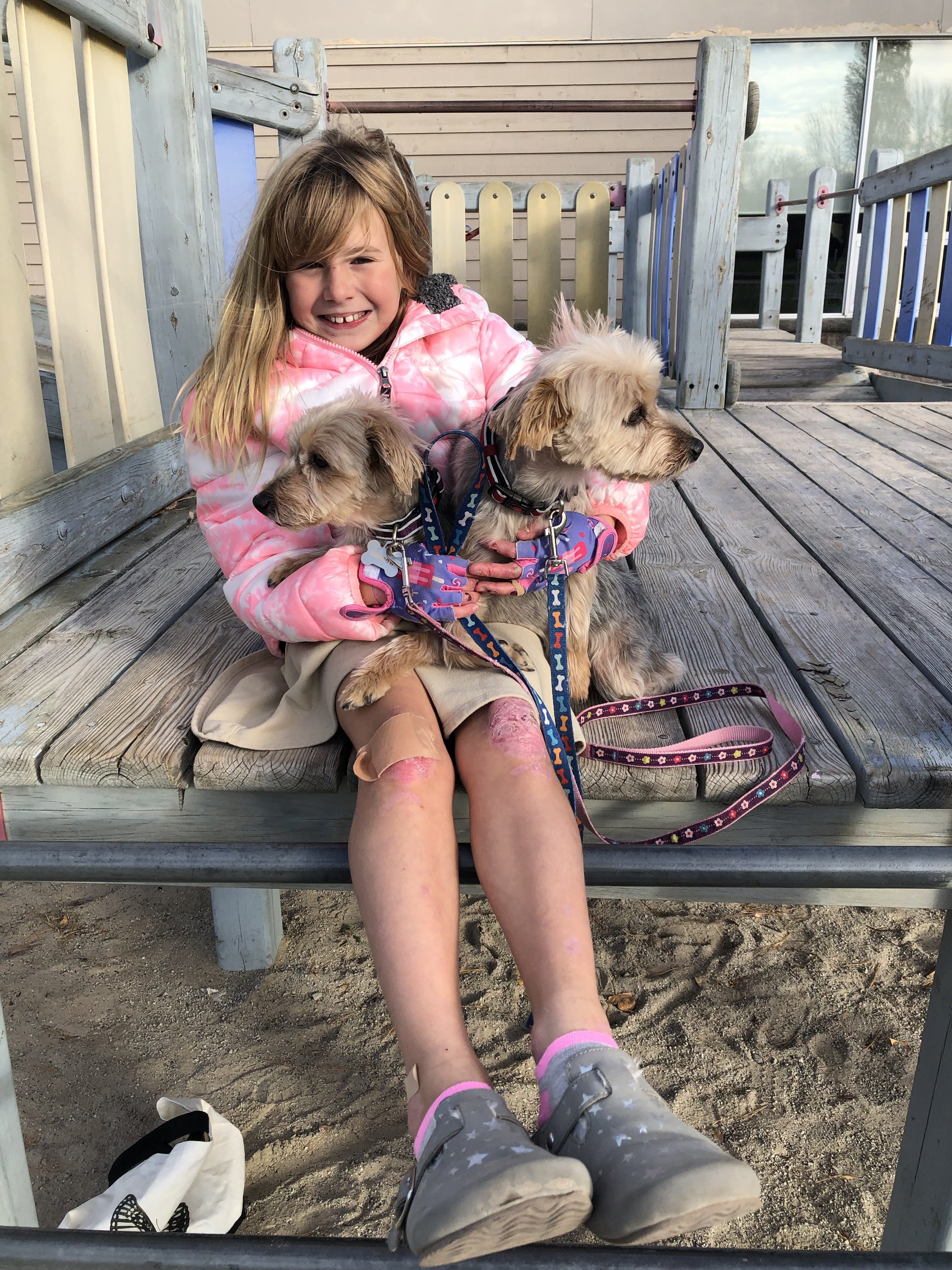 She swims, does gymnastics, cheerleading and dance, skis and snowboards at Craigleith Ski Club, and attends Brownies club once a week. Mia was named the athlete of the year in her class last year, and she plays hard with her friends, on the playground at school, with her dog Rainbow, and her mom's dog Shay.
Rainbow, as it happens, also needs medication and is on a special diet for a skin condition.
When Idiens formed Mia Thrives, it was with a goal of positivity and "thriving" not just surviving with EB.
"Life is precious. We have to honour every moment that we have and celebrate who we are, exactly the way that we are," said Idiens. "I need my daughter to feel positive about herself and to say to all her friends, 'I have EB and I'm great!'"
Last week, Mia spoke in front of her full school assembly at Pretty River Academy about EB and Mia Thrives.
"She stood in front of all her peers and said, 'look at my scars, and look at all these great things I can do,'" said Idiens. "It's wonderful that she's so comfortable in her skin."
The school assembly at Pretty River kicked off EB awareness week from Oct. 24-30, ending in an art installation of a butterfly and a mosaic of butterfly-themed crafts made by students at the academy.
The butterfly was created by artist Tammy Delorme and provided to the school by Mia Thrives to illustrate how Mia is supported by her community and to acknowledge her as a student with EB.
The installations are available through Mia Thrives to schools where there is a student at the school with EB, or the sibling of a child with EB attends the school.
"We donate it to the school so the students know when they see this butterfly, it's representing the EB community and celebrating differences," said Idiens.
The Idiens family moved to Collingwood after a series of moves from homes in Oakville, Barrie, and Muskoka. But Idiens said they're ready to settle here.
"We think we've found our community and we're really happy to be here," she said.
In finding a home for her family, she also hopes to find a place for Mia Thrives, and is hoping to find others who would like to support the work of the charity through volunteering and partnerships.
"I'd like to support the accessibility community here and I'd like Mia Thrives to be part of the community," she said.
Her goal for the charity is to make sure butterfly children do not feel ashamed or isolated by EB and to provide role models with EB for children to look up to and form connections with so they find belonging in the community.
For more information about Mia Thrives, to donate, or to volunteer, visit the website at miathrives.org, or email Melissa Vassallo Idiens at [email protected].