It's not the band I hate, it's their fans.
That's a dagger of a line, one probably every Canadian music fan between the ages of 35 and 55 has sung in harmony with someone else at one point in time of their life. There were certainly about 100 of us doing so Thursday night in Collingwood, led in the moment by the line's author.
Chris Murphy, one of the four pillars that make up the Halifax rock combo Sloan brought his first-ever solo concert tour to Gibson & Company on June 8, running through about a quarter of the songs he's written that the band has recorded in its 30-plus year existence.
A typical Sloan show gives Murphy eight shots at the mic each night, he told us in the audience, as the band features four distinct songwriters, each of whom will tackle lead vocals on their own songs. That means at any given show, there are one or two "deep cuts" from his catalogue that might make the setlist.
So, that makes these shows he's playing throughout Ontario and Quebec this month even more special, with tunes that might not have seen the dark of a concert hall in years, such as "Oh Dear Diary," which Sloan hasn't played live in over a decade, or "Autobiography," played maybe a dozen times since the end of 2016.
Love them or hate them, Murphy's solo shows are definitely for the fans.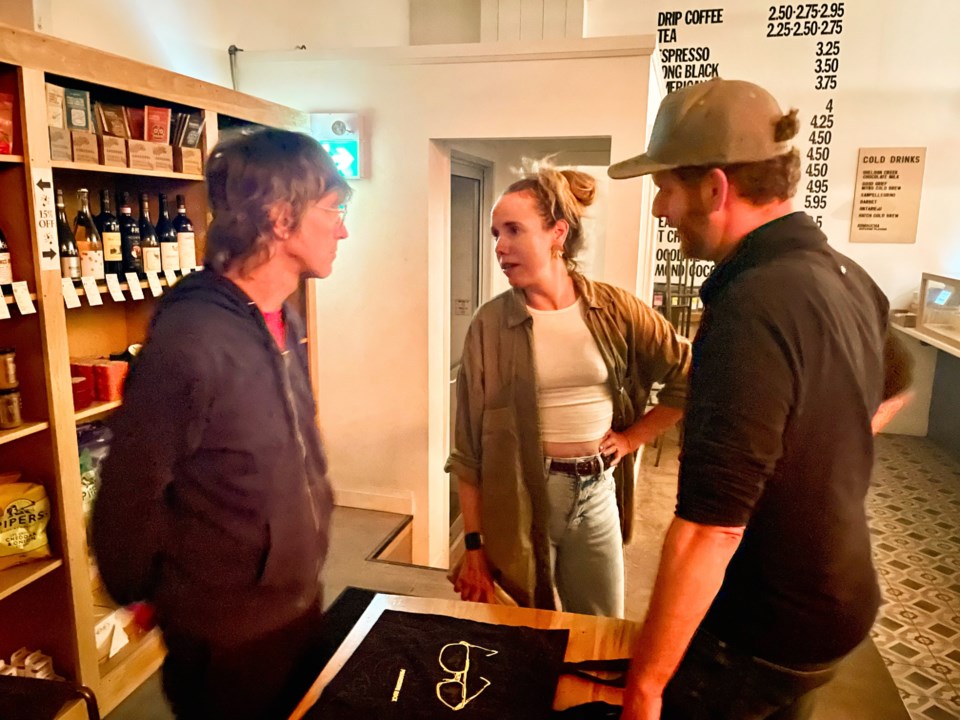 At least those who were lucky enough to get in. Gibson & Company is not a big room, but the speed at which tickets moved should show folks throughout western Simcoe County and around Georgian Bay that there is a need for more entertainment in these parts. The post-COVID influx of new, young professionals need nights like this, with the acts they love, to keep making this area an incredible place to live.
The June 8 gig in Collingwood had been sold out for weeks, almost since the tickets first went on sale. It was populated by that 35-55-year-old cohort, many of whom in their prior life would have been at a show each week, but now haven't been to a live event that didn't involve a British pig or Canine police office since before they sold their starter home.
This was the night millennial dreams were made of. The sitters were booked. The dinner reservations were made. The "it's a school night, but it's a special occasion, so maybe I can have another glass of wine" rationales were accepted.
And for about two hours, those dreams got to come true. If there was something bothering you when you came into the room, Murphy did his best to make you forget about it. His songs – like his brethren in Sloan – are neatly constructed pop tunes that you really don't have to think too hard about. Just sit back, enjoy and sing along.
But Murphy wasn't about to shut up and play the hits (or what constitutes as hits in a post-downloading music world). He provided back stories to his songs when necessary, explaining how "Your Daddy Will Do," isn't about his marriage (very likely true) or how "Silence Trumps Lies" isn't about the indicted former president (almost certainly false).
Explanation or not, nearly every song was punctuated by a story, including a great one about meeting KISS' Paul Stanley and inadvertently derailing an in-store question-and-answer session with him (complete with the heartbreaking limp handshake that came at the end of it), often hilarious tales from 30 years in the music business (despite the occasional punchline that soared over the audiences' heads) and the reasons for touring solo in the first place (pocket cash for a family trip to New York City, which may or may not be true).
If he needs the money, so be it – touring solo is a better side gig than a lot of other options out there. I'm not so bold to suggest most, if not all, musicians are doing it for the cash, but there was a mutual appreciation at play at Gibson & Company. For us, we got to sing "Deeper Than Beauty" and "Coax Me" in a room full of other people, just like we did when we were college students. For Murphy, he got to see his art connect with strangers who could have been anywhere in the world but chose to spend the night with him.
It was over by 9:30 p.m. – overtime for babysitters is expensive, so I've been told. Those who stuck around afterwards for another drink or to buy some merch were greeted by someone who was happy to chat and seemed genuinely interested in what they had to say.
That includes me and the friends I was with at this show. It wouldn't be fair to go into details of what was said – I never told him I write for a living and certainly didn't say I was considering putting a piece together on the show – but I can say that the kindness he showed three 40-year-olds who have been following his music for more than half their lives won't soon be forgotten.
The pandemic changed a lot of things about how we get together and especially how we consume live music.
But the one thing nights like Thursday show is that nothing can change how much fun it is to be a fan.
Patrick Bales is a reporter for InnisfilToday.ca.