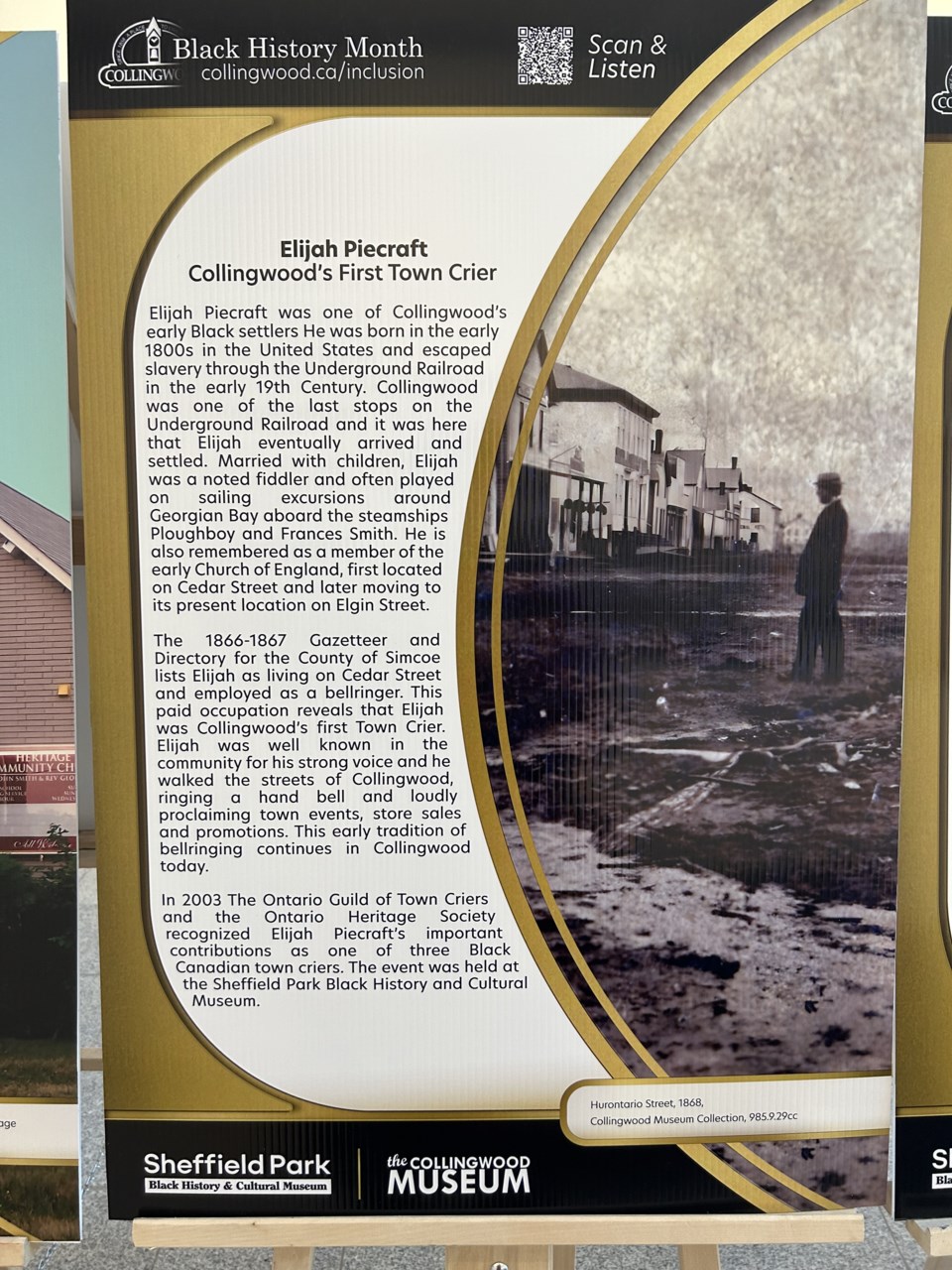 Collingwood's history cannot be told without the stories of early Black settlers, and their descendants – many of whom are celebrated in a special display at the library this month marking Black History Month.
On Feb. 1, Mayor Yvonne Hamlin and the rest of Collingwood council, along with guests from the community, raised the Black History Month flag to mark the occasion.
Black History Month was established thanks to the work of Jean Augustine, the first Black Canadian woman elected to Canadian parliament, who put forth the motion to declare February as Black History Month.
Last year, the Collingwood Unity Collective created a specific flag to mark the month, and it was raised up the community flag pole for the first time on Feb. 1, 2022.
While the flag flies outside the Collingwood Public Library, inside there is a new exhibit featuring stories of Collingwood's Black history.
Among those stories is the contributions of Elijah Piecraft, one of Collingwood's early Black settlers, and the first town crier.
Piecraft settled in Collingwood after escaping slavery through the Underground Railroad. He was listed in the County of Simcoe directory, published in the Gazetteer in 1866-1867, as a bellringer and resident of Cedar Street.
According to the information compiled by the Collingwood Museum and the Sheffield Park Black History and Cultural Museum, Piecraft was known for his booming voice, which he used to proclaim town events, store sales, and proclamations, while ringing his bell. In 2003 he was recognized by the Ontario Guild of Town Criers and the Ontario Heritage Society as one of three Black Canadian town criers.
You can learn more about Piecraft and other Black men and women who are part of Collingwood's history at the Collingwood Public Library where the Black History Month story boards will be displayed for the month of February.
Also at the library, Historian Janie Cooper Wilson will be giving a talk on Feb. 23 called That Takes the Cake, about how slaves and descendents of slaves used asubtle and unexpected method of resistance to racism that has transcended generations. The talk starts at 2 p.m. in the FreeSchools Community Room. Registration is online here.
For more Black History Month events in the region, click here.