The dog kennels at Georgian Triangle Humane Society (GTHS) are full, but help is still available to anyone who needs it.
That's the message the local shelter is trying to spread after a tough week that brought two adult dogs and four puppies to the shelter — all suspected of being abandoned. There may also be four more puppies wandering around a remote area of Grey County where the first four puppies were found.
GTHS received a report earlier this week of eight puppies spotted roaming an area off a dead-end road in Grey County. Animal control officers located four and brought them to the shelter on Wednesday, April 19.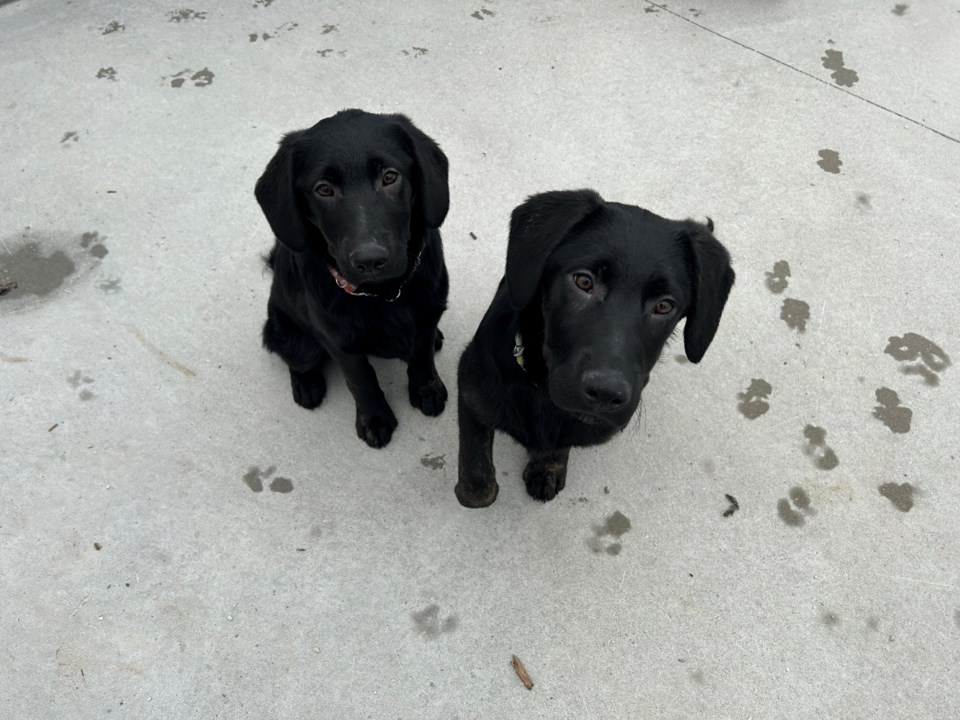 All four puppies are healthy and have been bumbling around the yard at the shelter working together in their shared interest in general mischief and adorable head tilting. They've enjoyed food, medical care, and playtime at the GTHS and probably don't appreciate the literary significance of their new names Diomedes, Archidamus, Dion, and Leonine. There's still a road ahead for the pups, who are cautiously learning to trust people, and will need spay/neuter surgery and some vaccinations before they start looking for a home to call their own.
The puppies are estimated to be about five months old and a mix of lab and German shepherd. More information might have been available, but they stole and ran off with a page of this reporter's notes. No puppies were harmed, and the page was recovered though obliterated.
Alas, the three sisters and their brother were not the only dogs likely abandoned in the area this week.
Two adult dogs, named Javier and Penelope, were also found after possibly being abandoned a few days ago. Both of the small dogs were found behind the Wasaga Adventure Park.
Some weeks ago, a dog was found in Bruce County tied to a stop sign, a shoelace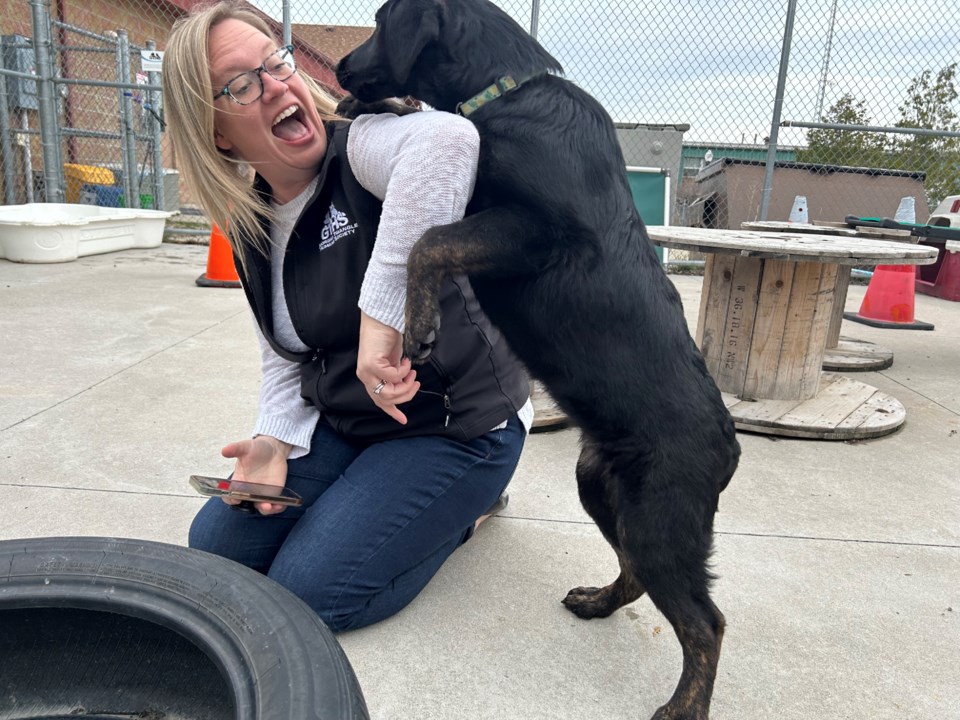 knotted tight around her muzzle. She was named Billy Rose when she arrived at the shelter, and after four weeks of careful work in a foster home, Billy Rose was adopted.
Kristin Holmes, the marketing and public relations manager at GTHS said the shelter has seen a 94 per cent increase in the number of stray and surrendered dogs coming through their kennels this year. They have not taken in the usual number of stray dogs from northern communities because the shelter has been over capacity with local dogs.
That doesn't mean the help isn't there, though, said Holmes.
"There are resources, and we give no judgement," said Holmes. "Please bring them here, there are so many other options."
She said there's no way to know what circumstances led to the dogs being abandoned, or even if they were abandoned. Inflation, access to care, and financial pressure can individually and together make it hard for someone to care for a pet, said Holmes.
"The GTHS mission is to keep pets and people together," said Holmes.
The shelter offers a pet food pantry, emergency medical assistance, emergency boarding, spay/neuter assistance programs, and a dog school. They also promise no judgement in situations where an animal is being surrendered to the shelter.
The GTHS has set a goal of raising $10,000 to cover the costs of the spay/neuter surgeries, vaccinations and other care for the new puppies, which will be available for adoption soon.
The shelter is also looking for foster volunteers, and has a long list of dogs waiting to be adopted.
To donate, adopt, or volunteer, visit gths.ca.