As the world begins to shift towards post-pandemic life, many are searching for ways to unwind and find treatments and services that nurture the mind, body and soul. After two years of lockdown, working from home and few options to stay healthy, now is the time to recover and rejuvenate with the ultimate relaxation and spa experience.
Scandinave Spa provides a rejuvenating relaxation escape in a peaceful outdoor environment. The Spa offers Registered Massage treatments as well as the traditional Scandinavian Baths Hydrotherapy Experience.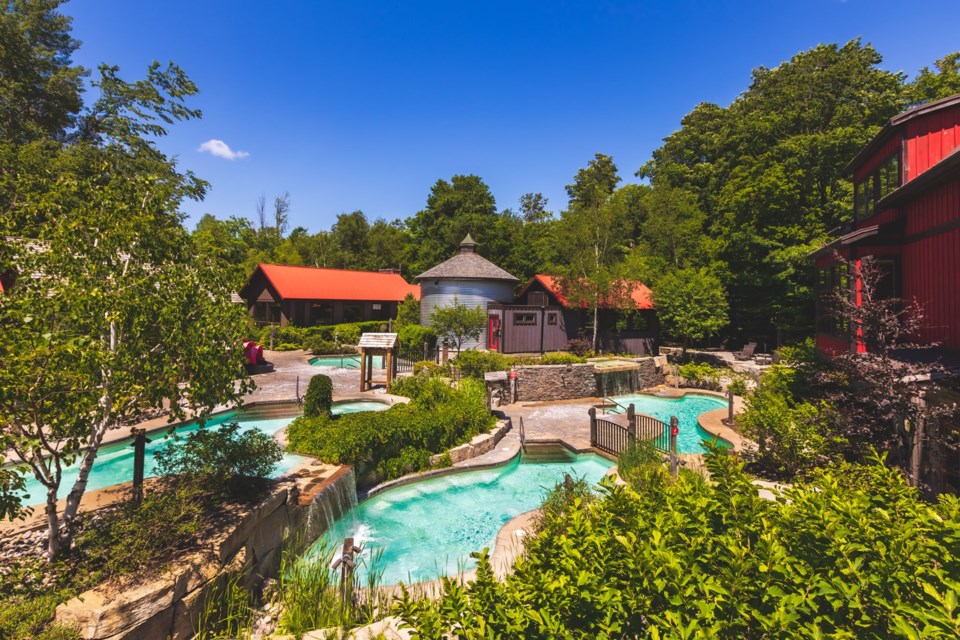 Relax for less - Unwind Wednesdays are back!
This popular day at the spa includes reserved access to the Scandinavian Baths for $10 less than the regular daily rate.
Anytime is a good time to visit the Scandinave
Mid-week is a relaxing time to visit the spa as it is usually less busy than weekends and holidays. The spa experience is enjoyable at any time of day and in any weather condition. Evening visits can be especially magical in all seasons. Guests can enjoy the cooler temperatures and evening light in summer and watch the lights and skiers on Blue Mountain in the winter.
Your Unwind Wednesday experience includes reserved access to the Scandinavian Baths, two towels and a locker. It is recommended that guests bring a refillable water bottle, and sandals. Robes can be rented for $12 for the day or guests can bring their own; Bathing suits are mandatory; and Guests must be 18+ years old to enjoy the spa.
What makes Scandinave Spa Blue Mountain a special place?
The Value of Silence
The Scandinave Spa is a tranquil environment. Silence is essential to the enjoyment of the spa, it brings inner stillness leading to complete relaxation. There's no wifi at the Scandinave Spa Blue Mountain but we promise you will find a better connection.
Health and wellness is a key benefit
The traditional hydrotherapy ritual is a repeated cycle of hot, cold and relaxation proven to both energize and rest the body.
The hydrotherapy circuit has many benefits including improving circulation, muscle tension, detoxification, and the release of endorphins, also known as the 'well-being hormones.'
Forest Bathing Experience connects guests to nature in a new way
Scandinave Spa Blue Mountain is home to one of two certified Forest Bathing trail in Ontario.
Scandinave's unique Forest Bathing experience provides the mental health benefits of spending time in nature; Scientific studies confirm that forest bathing therapy enhances cardiovascular and metabolic systems function.
Spending time in the forest can lower blood pressure and anxiety; and Forest bathing therapy has shown to enhance feelings of calmness, happiness and cognitive function while lowering stress hormone cortisol, which can help with sleep issues.
For more information on this amazing experience, watch the informational video.
Shop online
Not able to visit in-person? No problem. Guests can enjoy the Scandinave Spa experience at home by visiting the online Spa Shop for wellness-inspired products and packages.
Share the gift of the Scandinave Spa
Give yourself or someone you love the gift of relaxation. Scandinave Spa Gift Cards can be used toward any product or service offered by the Spa and they never expire. Gift Cards are available online here.
Ready for the Scandinave Spa experience? Reserve a spot today!
Reservations for the Scandinavian Baths open four weeks in advance. Unwind Wednesdays have resumed and are available to book online or by phone at 1-877-988-8484.