Over the past year, Collingwood has welcomed many new residents as the pandemic highlighted the benefits of having more space, access to outdoor activities, greenspace and beautiful scenery.
"People have shifted their focus, especially with more working from home and making it possible for many to move out of cities to get more space," said Alexandra Weston, Marketing Manager for Apple Self Storage in Collingwood.
Apple Self Storage, based in Aurora, manages the Collingwood facility for its local resident owners, who are also developing a new Apple Storage facility in Barrie opening in 2023. Apple Self Storage owns and/or manages over 40 other facilities in Ontario, Manitoba, and the Atlantic provinces.
Weston noted that Collingwood has been a popular destination for retirees for many years. The pandemic has probably accelerated the plans of many folks in the GTA near that stage of their lives, further contributing to the influx of new residents in Collingwood.
However, moving can reveal just how much stuff we have in our homes, leaving us faced with what to do with our things while we are transitioning from one home to the next.
Whether building your dream home, downsizing, or looking for something permanent while staying somewhere else, a storage unit can help make the process easier while providing the comfort of knowing your belongings will be safe and secure.
The variety of ways Apple Self Storage can help accommodate your storage needs
There are many situations in which obtaining a storage unit for your belongings can be beneficial. They include but are not limited to:
Moving and home renovations
The housing market is moving at lightning speed. If you have a fast-approaching closing date and little time to go through your belongings thoroughly, a storage unit is ideal for a few months while you sort things out
If you're building your dream home and staying elsewhere in the meantime, consider a storage unit to keep your belongings safe until the completion of your build
Home renovations have been hugely popular in the past few years. If you're embarking on a home improvement project, a storage unit is ideal to store some furnishings until the renovation is complete
Seasonal items and decor
Having a beautiful outdoor space is hugely popular in the summer months. However, when the summer is over, a storage unit is ideal for storing your outdoor furniture or barbecue safely until the next season, not to mention the kayak, golf clubs, and so on.
Similarly, once the winter is over, a storage unit can be used to store your snow blower or winter recreational vehicles, ski equipment, and other winter gear.
If you are someone who likes to redecorate your home based on the season, a storage unit can be used to store off-season furniture and décor until you need it again
Business storage
If you have a business that requires more inventory than you have space for, a storage unit can ensure it is kept safe and easily accessible when you need it
Some businesses require a lot of files and documents. If your office space is not large enough to house excess documents onsite, a temperature-controlled storage unit is a great option
If you're an event planner, staging specialist, or in any business that requires a range of furniture and décor items, a storage unit is ideal to store these items for retrieval and return as needed
Apple Self Storage Collingwood has units to safely store a variety of different items to help its clients through all these situations.
Services available include exterior and interior access, heated and unheated storage units in a range of sizes, as well as mailboxes and acceptance of deliveries for clients. Check out more details online.
Friendly and knowledgeable staff will advise and assist you every step of the way to meet your storage service needs. Management is on site during regular business hours Monday through Saturday and secure access is available 24/7 to all clients.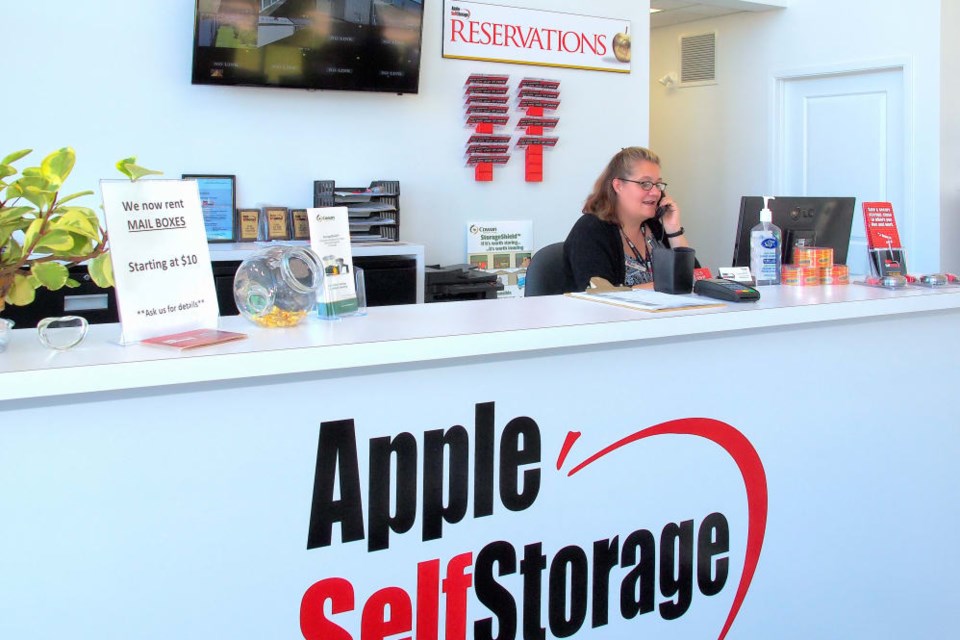 Why it's important for Apple Self Storage to support the community that supports them
Apple Self Storage Collingwood is a locally owned and operated business committed to providing ongoing support to local charities and community organizations including Home Horizon, Georgian Triangle Humane Society, G & M Hospital Foundation, Youth Unlimited and others.
"Like any locally focused service business, having the support of the community, and giving back to contribute to its social well-being, is extremely important to us," Weston said.
If you're looking for storage solutions in Collingwood, Apple Self Storage has units available and knowledgeable staff to help you through the process. Call 705-444-9888 or check out the website for more information or to make a reservation.