File No. D140323 - 135 Sandford Fleming Drive
Date of this Notice: November 15, 2023

TAKE NOTICE that the Town of Collingwood Council passed By-law No. 2023-82 on November 6, 2023 under Section 34 of the Planning Act.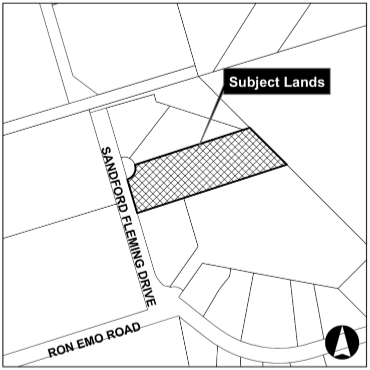 Location: 135 Sandford Fleming Drive, Collingwood
Legal Description: Concession 7, Part of Lot 41, 51R 31453 parts 3 & 4, Geographic Township of Nottawa, Town of Collingwood, County of Simcoe
Area: 2.02 hectares (5 acres)
The development proposal is located on the east side of Sandford Fleming Drive, north of Ron Emo Road.
The purpose of the Zoning By-law Amendment is to rezone the subject lands from the INDUSTRIAL PARK M5 ZONE to the HOLDING TWENTY-THREE – INDUSTRIAL PARK EXCEPTION SIX (H23) M5-6 ZONE to permit an Animal Shelter with accessory Animal Boarding Establishment, Kennel, Pet Daycare, Veterinarian Clinic, and Business Office. The effect will be to permit these uses for the eventual construction of the Georgian Triangle Humane Society Regional Centre for Pets and People, which is proposed to be approximately 1,791 sq.m. (19,278 sq.ft.) in size, upon approval of a future site plan control application.
PUBLIC AND AGENCY COMMENTS RECEIVED: All written and oral submissions received in response to the application were considered, the effect of which helped to make an informed recommendation and decision as summarized in Staff Report P2023-28.
WHEN AND HOW TO FILE AN APPEAL
An appeal of the decision of the Town of Collingwood Council to the Ontario Land Tribunal (OLT) must be filed with the Town of Collingwood no later than 20 days after the date of this notice. The last date of appeal is December 5, 2023. The appeal package should be sent to the attention of the Clerk, Town of Collingwood, P.O. Box 157, 97 Hurontario Street, Collingwood, Ontario L9Y 3Z5. The appeal must set out the reasons for the appeal and be accompanied by the fee required by the Tribunal as prescribed under the Ontario Land Tribunal Act. A copy of the appeal form is available on the Tribunal's website: https://olt.gov.on.ca/appeals-process/forms/
WHO CAN FILE AN APPEAL
Only individuals, corporations and public bodies may appeal a by-law to the OLT. A notice of appeal may not be filed by an unincorporated association or group. However, a notice of appeal may be filed in the name of an individual who is a member of the association or group on its behalf.
No person or public body shall be added as a party to the hearing of the appeal unless, before the by-law was passed, the person or public body made oral submissions at a public meeting or written submissions to the council or, in the opinion of the Tribunal, there are reasonable grounds to add the person or public body as a party.